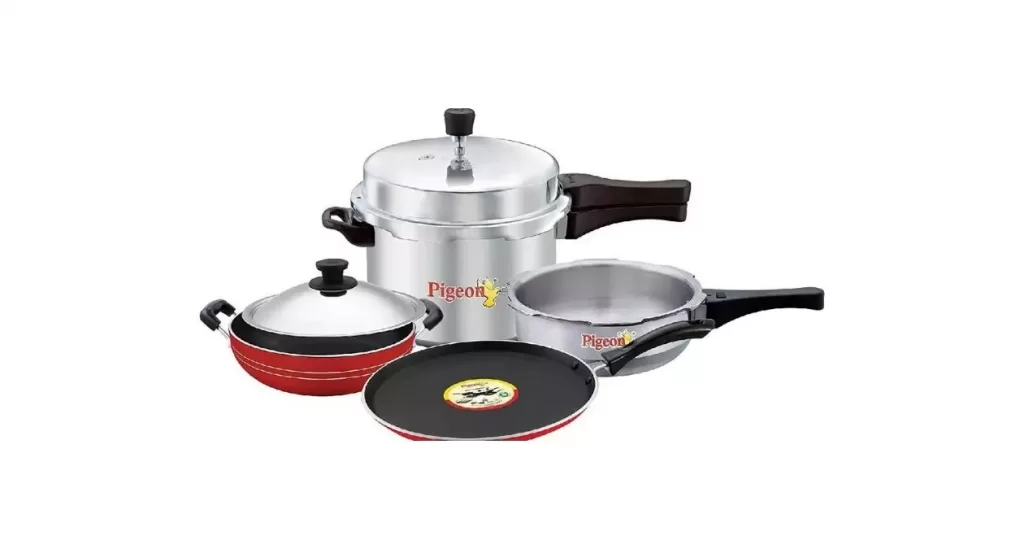 Induction cooking is a convenient alternative to cooking on a gas stove. If you have just bought an induction cooktop, you will also need some compatible utensils for cooking your vegetables, boiling milk, etc. If you are thinking of buying good high-quality induction cookware set for home use, then you will find good options related to it online.
Familia Non-stick Aluminum 3 Pcs Cookware
Familia Non-stick Aluminum 3 Pcs Cookware Set is crafted with three layers of high-grade non-stick coating, which makes the product durable. Metal spoons can also be used with these coated utensils during cooking. The product comes with a cool-touch backlight handle, which makes it easy to use. The fry pan is lighter and comes with better thickness for frying. Items come with spiral induction bottoms, which allow for a more evenly distribution of heat. Cooking takes less time because of aluminum. Items stay dishwasher safe and are also acid-proof. Familia Non-stick Cookware is priced online at Rs.1,090. The company also gives a 1-year warranty on this product.
Prestige Omega Granite Aluminum Kitchen Set
Prestige Omega Granite Aluminum Kitchen Set is made of non-stick aluminum and has a durable granite finish. The set consists of a Tawa (280 mm.), Fry Pan Diya (240 mm.), Kadai (240 mm.), and a Milk Pan (160 mm.). These utensils have a 5-layer non-stick coating made of German technology. The good thing is that these are both dishwasher-friendly and metal spoon-friendly. They can be used on both induction stoves and gas stoves. These are user-friendly and long-lasting utensils, which can be cleaned easily. The Prestige Omega Granite Aluminum Set is priced at Rs 2,890 online.
Pigeon by Stove kraft Induction Base 4-in-1 Starter Kit
The Pigeon by Stove kraft induction base 4-in-1 starter kit might be an option for you. It can be used with both induction cooktops and regular LPG stoves. All items included with this set come with an extra-thick base. Plus, the ergonomic handles make these utensils easy to use. All items in the set have a three-layer Greblon coating, which prolongs the life of the product. These are also compatible with metal spoons. It also gets you a Calida Induction Base Aluminum Pressure Cooker (5 Ltrs), an Induction Base Junior Pressure Pan, an Induction Base Non-Stick Tawa (25 cm), and an Induction Base Kadai (20 cm) with Lid. All items are dishwasher safe. The online price of Pigeon by Stove kraft Induction is Rs 1,946 on Amazon. The company gives a 1-year warranty on this product.