21st Century Direct Sale Business
Hey, how are you? Are you a student, an employee, self-employed, businessman, Doctor, Lawyer, whatever you are doesn't matter because I'm here talking about Direct Sale Business/Network Marketing/ MLM(Multi-level Marketing). This business is for everyone. And I know you hate it, according to Indian society this is one of the worst work/business. Indian society never tried to know about What is Direct Sale Business, Why people hate it, the history of Direct Sale and all truths?
---
Networking and Network Marketing both are different.

If you don't know you should know these terms. I'm here for Network Marketing/Direct Sale Business. Not for Networking.
---
If I ask you why do you hate Direct Sale Business, the answer will be everybody hates it, our parents hate it. You never tried to know the reason and this the truth about you. Anyways Direct Sale business/ Network Marketing/ MLM is legal in India. If you want to know everything about Direct Sale Business read the full article. But before getting started I would like to say something about Indian Society, especially for Indian Youth.
In terms of population, India comes on 2nd and in terms of Youth, India comes on 1st, because 60% of the Indian population is youth. And sadly more than 45% of youth are unemployed in India because they have strong excuses regarding then unemployment. It is the 21st century and you are making an excuse that's not fair. If you're a student completing a course or competed and still unemployed, or you're an unemployed person earning nothing, you can't make an excuse because of these days a 5-year-old kid is also earning a lot, more than your expectation.
---
Direct Sale Business Indian Youths Mindset
I'm also an Indian and here I'm not doing T-Down to India, I'm just telling truth a reality or mindset of India society. I already told you I'm an Indian but not like other India poor mentality people, especially for Indian youths. Because of the poor mindset, Direct Sale business/ Network Marketing is identified as one of the worst work or business in India. Indian society still believes in old Philosophy. The reason behind a higher unemployment percentage (%), youths are dependent on Job (Government Job) they are not developing their skill, not working on skills development. So they are Job Seekers.
---
---
In India a person after their age of 20 still dependent on their parents. I don't know why Indian parents also don't want their children to become a decision-maker. This's a hard truth that maximum Indian youths have no ability to take their own decision for their future/carrier. In India, the unemployment ratio is higher than in other developed countries. That is why I'm here talking about Direct Sale Business/ Network Marketing/ MLM i.e. also known as 21st Century Business. Because according to NITI AYOG Direct Sale Business can fulfill the unemployment gap in India. You should know that to find a secure job in Govt. or private sector becomes rare because of technology. Technology is increasing day by day and India is becoming Digital India, machines, robotics and technologies are taking over humans.
---
Don't close the page until you read it completely. If you hate Direct Sale Business/ Network Marketing/ MLM must read complete article.

If you can't keep patient here you can't do Diretc Sale Business.
So before getting started about What is Direct Sale Business, Future of Direct Sale Business in India, Why people hate Direct Sale business or Network Marketing in India? you must know about the history of Direct Sale Business.
---
History of Direct Sale/Network Marketing/MLM Business
Direct Sale Business/Network Marketing/MLM born as "Money-Making Scheme". Now the question is what was "Money-Making Scheme"?
---
Money-Making Scheme
Charles Ponzi, born in 1882, March 3rd in Italy. Before the 1920s nobody knows who's Charles Ponzi. Charles became popular in early 1920 after getting arrested in North America for his Money-Making Scheme. The scheme was all about doubling the investment(money). Charles started the scheme and promised that he'll return double the investment in 90 days. Later he shortened this to 45 days at 50% interest and 90 days at 100% interest. The interest was higher than any bank interest. So at starting nobody believed but some people invested. They were paid off as promised, receiving $750 interest on an initial investment of $1250. In the first month, Charles collected $1800, and later he had made millions of dollars (~$5 million).
---
This was the overview of the Money-Making Scheme later the scheme was known as the "Ponzi Scheme". The scheme was based on MLM (Multi-Level Marketing) and Pyramid Scheme. The Ponzi Scheme was running as unregistered investments so the USA government banned it and arrested Charles Ponzi.
After Ponzi Scheme in the year 1924, June 3rd in America Jay Van Andel and in the year 1926, March 4th Richard Devos were born. Richard Devos was Co-Founder of Amway with Jay Van Andel (Founder of Amway). Both were American billionaire businessmen. It is all started by Nutrilite. In the year 1939 a vitamin selling company California Vitamin Company was renamed as Nutrilite. In 1945 the founder of Nutrilite invented the MLM, a door-to-door, selling system to distribute their vitamins. Later in the year 1949, the founders of Amway began as independent distributors selling Nutrilite products and rose rapidly to being top-selling distributors.
---
After becoming top-selling distributors Van Andel and Devos launched a new company, the American Way (later known as Amway). Amway also uses the Multi-Level Marketing system.
By 1958, Devos and Andel had built an organization of more than 5,000 distributors and later in 1959 American Way Association were born. Liquid organic cleaner (LOC) was their first product. In 1972 Amway bought controlling interest of Nutrilite and in 1994 got full ownership. This was the history of Direct Sale business or Network Marketing or MLM.
---
History of Direct Sale/Network Marketing/MLM Business in India
As per the Indian law, Direct selling was legal, but according to the Prize Chit & Money Circulation Scheme Act, 1978 MLM was often confused. Later MLM industry arguing that MLM and Money Circulation Schemes are different and 1978 law is not for MLM. So in 1995 MLM born in India. A European major Oriflame Company started MLM in India in 1995. Later in 1998 Amway also came to India.
Everything was right and people in India also were positive (+ve) towards Direct Sale Business/Network Marketing/MLM before the year 2013 incident. Between the year 2009-earlier 2013, many Scheme-Scam or Chit-Fund companies formed and it spreads negative/wrong output. In April 2013 a Kolkata based Saradha Scam Collapse and the situation became critical because of this many innocent investors committed suicide. The loss was $5 Billion of 1.7 million people. The Saradha Scam was like Ponzi Scheme and in the result of this in the Next month May 2013, Amway India's CEO was also arrested by police.
---
After all these incident in March (13th), 2015 Kerala Finance Bill legalized Multi-Level Marketing/Network Marketing/Direct Sale Business. The Kerala Govt. also published a new model for MLM in the year 2016, April 2nd. Later on Monday, 12th September 2016, Shri Ram Vilas Paswan, Minister of Consumer Affairs, Food and Public Distribution; announced Model guidelines on Direct Sale Business (Direct Selling) with a Press release.
---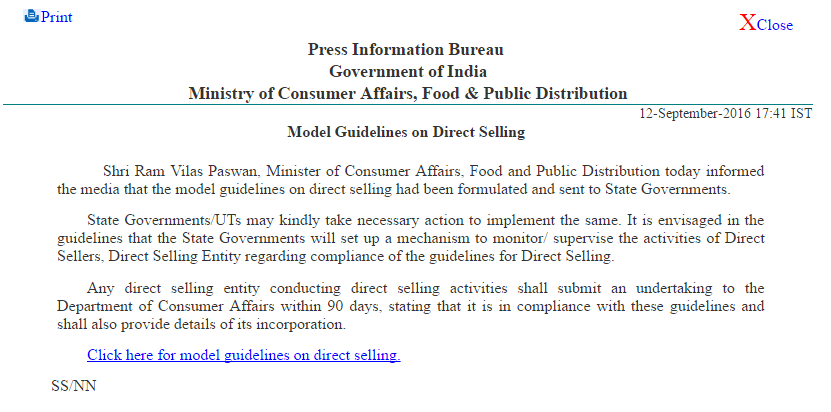 Before Sharing full Direct Selling Guidelines 2016, let me share some facts about this industry.
---
What is Direct Sale Business/Network Marketing/MLM?
Direct Sale Business is also known as Network Marketing or Multi-Level Marketing (MLM). In this business model, the direct seller earns money by selling products directly to the customers and by sponsoring new direct sellers. According to 2015, direct Selling Guidelines Model "Direct Sale business (Direct Selling) is essentially the marketing of products and services directly to consumers in a person-to-person manner, away from permanent retail locations."
Note: You'll not be paid to recruit people only, you must have to sell products.

Direct Sale Business is totally different from the Pyramid Scheme, Ponzi Scheme or Prize Chit & Money Circulation Scheme.
According to FICCI Direct Selling Report 2015, Direct Sale Business can also be defined as It is an alternate method or form of advertising, distributing products and Services. Instead of using Indirect or Traditional Consumer goods retail model (Manufacturer-Distributor-Advertiser-Wholesaler-Retailer-Customer).
---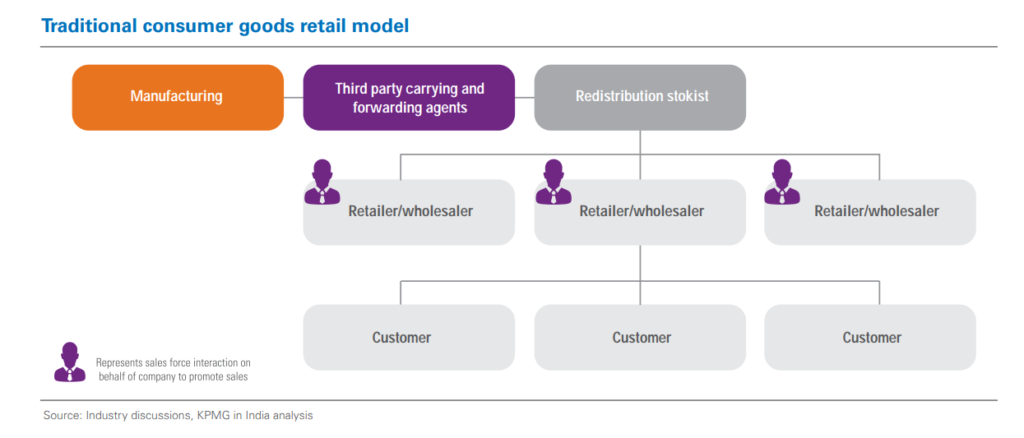 ---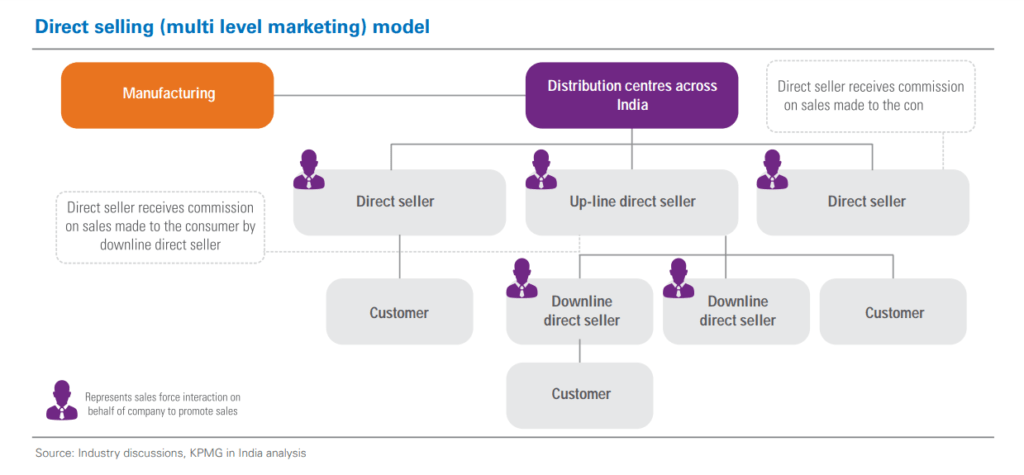 ---
Direct Selling in India, Future of Direct Selling
Direct Sale Business in India is spreading like Antivirus over unemployment. The Direct Selling industry has already proved itself in the global market with over 200 Billion annual revenue. After seeing the fact and Market size of Direct selling in India you can assume or predict the future of Direct Sale Business in India.
---
---
The market size of Direct selling in India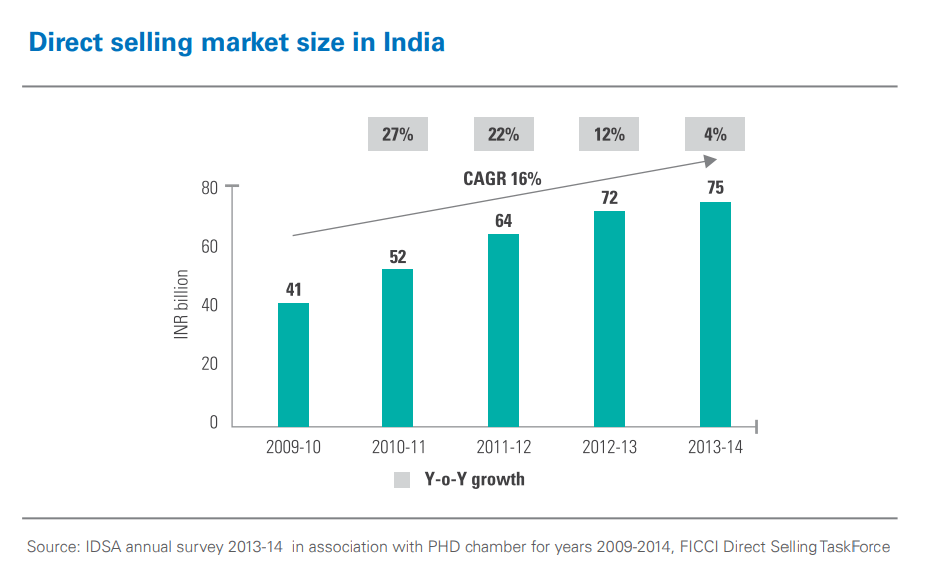 ---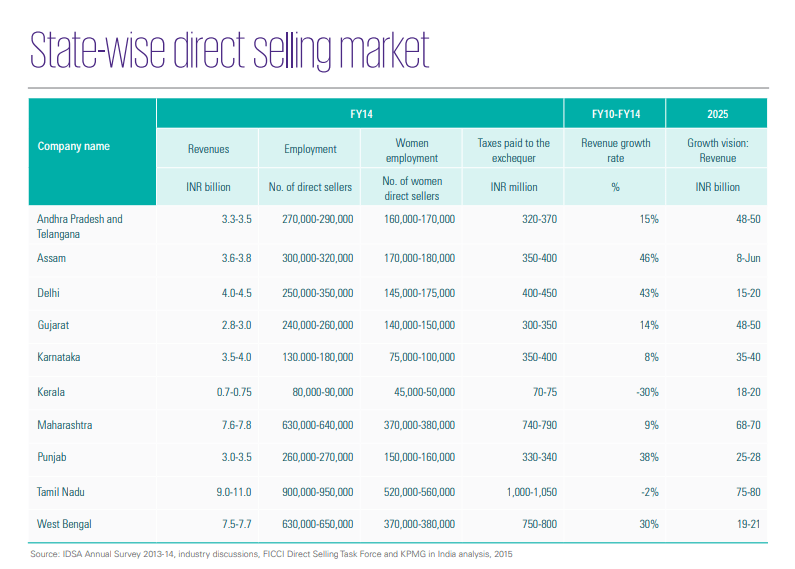 ---
Quote from Direct 2015: A report on Direct Sale Industry published by FICCI and KPMG
The direct selling market in India has grown at a CAGR of 16 percent over the past five years to reach INR75 billion today. The market grew at a lower rate of 4 percent in 2013-14 due to a slowdown in the industry.
The Indian Direct Selling Industry is well placed to successfully foray into international and domestic markets. However, there are many issues and challenges that need to be overcome to make that vision a reality. The factors hampering full-fledged growth include fly-by-night Ponzi and pyramid schemes which are often confused with direct selling, a clear legal definition of the industry, and clear and centralized regulations.
In states such as Andhra Pradesh, Telangana, and Kerala, the direct selling business has been impacted due to lack of regulatory clarity. There is a need for the central as well as respective state governments to arrive at a comprehensive policy for the industry, which would enable the industry to grow and create both direct and indirect employment.
---
Indicating about bright future of Direct Sale business in India the report also publishes-
Factoring in growth in consumer markets and assuming the direct selling industry penetrates the market to touch globally-comparable levels, the industry has the potential to reach a size of INR645 billion by 2025.
The direct selling industry has contributed significantly to women empowerment, skill development, technology percolation and the growth of the small & medium sizes enterprises (SMEs) sector in the states, besides contributing to the exchequer. In addition, the industry also provides a viable means of alternative income, which promotes self-employment.
---
Future of Direct Sale Business also depends on increasing population, unemployment and technology.

Sadly Population, unemployment, and technology are increasing day by day in India. So now you can decide your future and Direct Sale future. That is why the Indian government has started the diploma/degree courses for Direct Sale business in universities and colleges. After 2020 you must have to carry a diploma/degree if you would like to choose Direct Sale as a carrier option.
---
---
Infographic about Direct Selling Guidelines 2016
---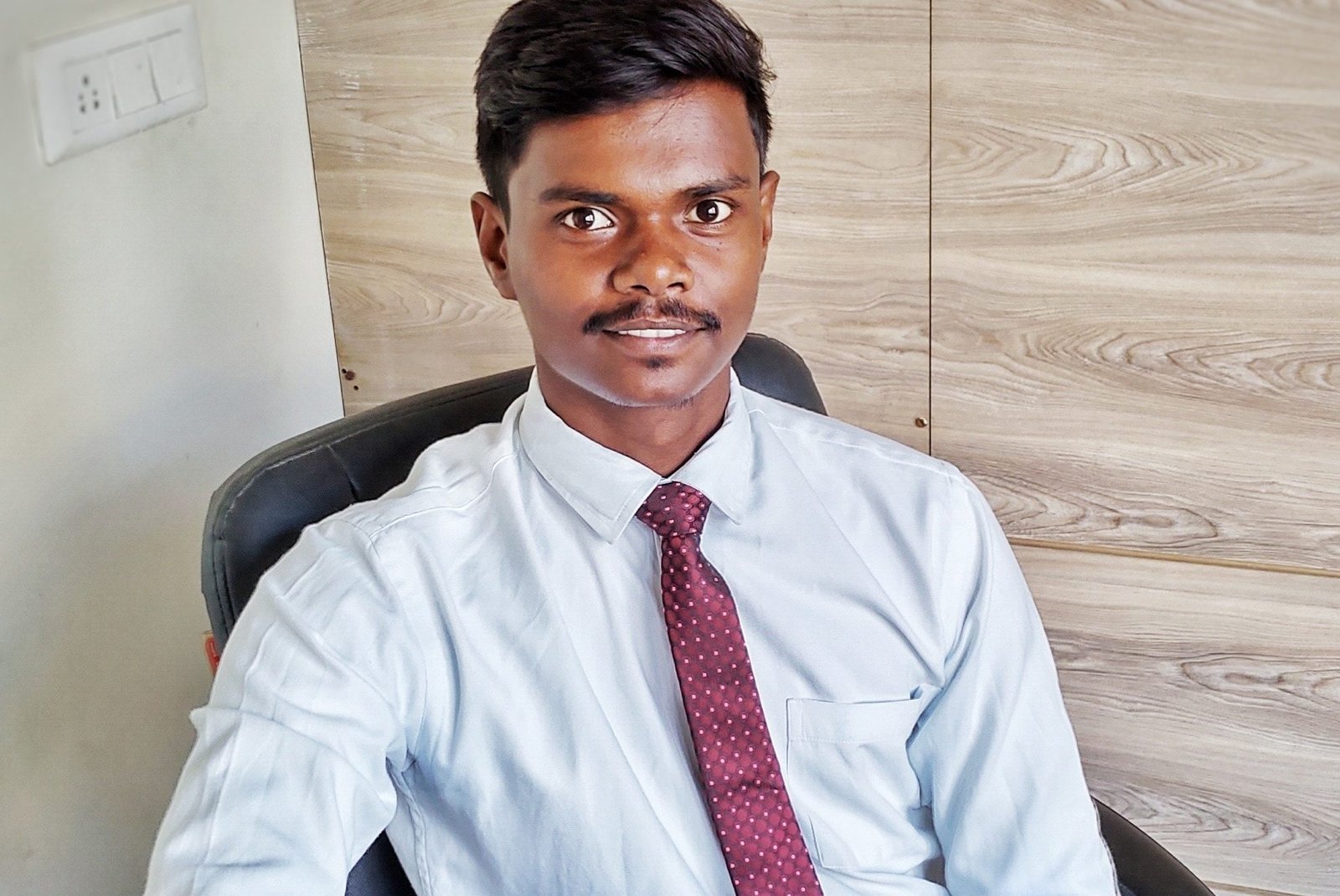 Let's make life easier and beautiful. Join With Me.
---
Some important links:
---
If you're direct seller must-read books
---