Overcoming Online Shopping Challenges with Karma
In the fast-evolving realm of online shopping, finding the best deals and avoiding overpayment has never been more crucial. As e-commerce continues to shape the way we shop, the challenges of fluctuating prices and scattered discounts persist. However, there's a silver lining in this digital retail landscape – "Karma." This app and extension are poised to redefine your online shopping experience, ensuring you save both time and money while effortlessly overcoming online shopping challenges.
E-commerce in the Spotlight
E-commerce has experienced a meteoric rise, and by 2025, the global e-commerce market is projected to reach a staggering 8 trillion US dollars. The allure of online shopping lies in its convenience, offering access to a wide array of products – from the latest fashion trends and gadgets to everyday groceries – right at your fingertips. But this convenience comes hand-in-hand with certain challenges, such as fluctuating prices. You've probably encountered the frustration of purchasing a product only to discover its price drop the very next day. This is precisely where Karma steps in to transform your online shopping journey.
Meet Karma – Your Ultimate Shopping Companion
Karma isn't just an app; it's your ultimate shopping companion. Seamlessly integrating into your online shopping routine, Karma's key features and benefits are tailor-made to address the challenges and frustrations of modern e-commerce. Here's a closer look at how Karma empowers you to overcome online shopping challenges:
Real-Time Price Tracking: Your Price Guardian
Karma's real-time price tracking feature acts as your vigilant Price Guardian. It continuously monitors the prices of the products you desire, ensuring you never miss out on a price reduction. Whether it's the hottest smartphone, a stylish pair of shoes, or your favorite tech gadgets, Karma keeps you covered.
Coupon and Discount Aggregator: Your Savings Ally
No more scouring the web for elusive coupons and discounts. Karma serves as your Savings Ally by consolidating all available discounts for the products on your radar. Say goodbye to the tedious hunt for coupon codes or navigating spammy coupon websites. Karma streamlines the process, guaranteeing that you always secure the best deals.
Wish List Management: Your Shopping Sidekick
Managing your wish list couldn't be more effortless. Karma's Wish List Management feature provides a simple and organized way to keep track of the products you desire. It goes the extra mile by notifying you when your coveted items go on sale. Imagine never again forgetting about your wishlist items and receiving timely notifications when their prices drop. This is a game-changer for savvy shoppers, eliminating the frustration of missed opportunities.
Cross-Browser Compatibility: Your Shopping Flexibility
Karma doesn't impose any restrictions on your preferred browser or platform. It seamlessly integrates with major web browsers, whether you favor Chrome, Firefox, Safari, or any other. This flexibility ensures that you can enjoy Karma's benefits across all your devices and browsers, maintaining a consistent and efficient shopping experience.
Seamless Mobile App: Your Pocket Companion
For those who prefer shopping on the go, Karma offers a user-friendly mobile app. Compatible with both Android and iOS devices, the app brings all of Karma's power to your pocket, enhancing the convenience of saving while shopping on your mobile device.
Signup Bonus and Cash-Out Rewards: Earn as You Shop
Karma welcomes new users with a generous $5 signup bonus, making it even more appealing to get started. But that's just the beginning. As you shop, Karma allows you to earn rewards based on your purchases and the websites you shop from. These rewards accumulate over time, and when they reach the $30 threshold, you can easily cash them out using PayPal. This means that your savings not only come from finding great deals but also from Karma's reward system.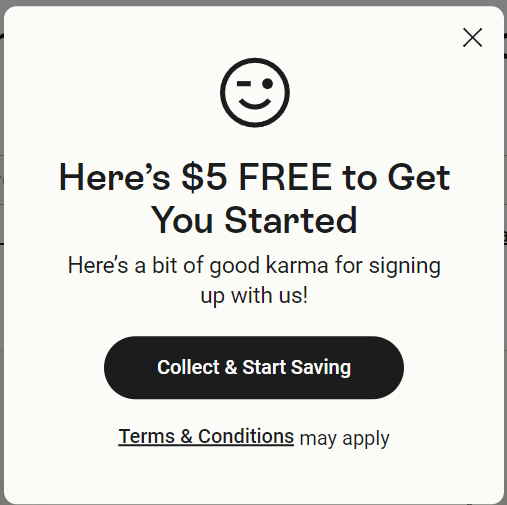 The Money-Saving Experience
Imagine a shopping experience where you always secure the best deals, effortlessly. Karma ensures precisely that. It's akin to having a personal shopper who's constantly on the lookout for discounts and price drops, guiding you towards savings.
The real-time price tracking ensures you never make a purchase at its peak price. This feature alone can save you a substantial amount of money over time. Moreover, the coupon and discount aggregation feature simplifies the process of finding discounts, guaranteeing that you never overpay for products.
Managing your wish list has never been easier. Karma keeps a watchful eye on the items you desire, ensuring that you are the first to know when they go on sale. This feature streamlines your decision-making process, allowing you to purchase items at the most affordable prices.
User Experiences and Testimonials
Karma has already built a substantial user base, and their experiences offer powerful testimony to the app's impact. Here are real-life testimonials from Karma users:
"Karma has been a game-changer for my online shopping. I used to spend hours searching for discounts, but now it's all at my fingertips. It's saved me hundreds of dollars!" – Sarah R.
"I'm a tech enthusiast, and Karma has been a revelation. It actively tracks price drops on the gadgets I desire, and I've scored amazing deals." – John M.
These testimonials highlight the real-world impact of Karma on everyday shoppers. It's more than just about saving money; it's about the convenience and peace of mind it brings to your shopping experience.
Karma's Future Overcoming Online Shopping Challenges
The creators of Karma remain committed to continually enhancing your shopping experience. Their roadmap includes adding more features and expanding their database of discounts, making Karma an even more invaluable tool for online shoppers. In the future, you can anticipate even more savings and a user-friendly experience.
Karma is an ever-evolving solution, shaped by the feedback and suggestions of its user community. This means that Karma's future is not only promising but also driven by the preferences and needs of its users.
Conclusion: Your Path to Smarter Shopping
In the world of online shopping, Karma stands out as the app and extension that truly makes a difference. It's your path to saving time and money while enjoying the convenience of online shopping. Say goodbye to overpaying and hello to smarter, more efficient shopping. Try Karma today and unlock a world of savings at your fingertips. Happy shopping!
The Final Verdict: Elevate Your Shopping Experience with Karma
In conclusion, Karma is more than just a tool for saving money while shopping online. It's a shopping companion that simplifies your experience, ensures you get the best deals, and keeps you informed about price drops and discounts. With Karma, you have a personal shopping assistant at your side, helping you shop smarter and more efficiently.
The rise of online shopping has brought convenience, but it has also presented challenges. Prices fluctuate, discounts are scattered, and wish lists can be forgotten. Karma addresses these challenges, providing a one-stop solution for all your online shopping needs, ensuring that you overcome the challenges and embrace the savings.