Baby Shampoo Natural Baby Hair Wash
We all know that a good bath makes us feel fresh. Similarly, a good and natural baby bath is also good for our little one. It's our priority to offer a good bath and why not, the baby is one of the loveliest family members. The best baby shampoo offers your baby a good bath because now no more tears while taking bath. Now your baby will enjoy taking bath and you'll love watching their activity. But choosing the best baby shampoo in the local market or online is one of the toughest work, that's why we have chosen 7 best baby shampoo from top sellers so you can buy any of them according to your budget.
---
How To Choose The Best Baby Shampoo?
It doesn't matter your baby is born with a full head of hair or bald, the thing matter is to keep his scalp clean with a gentle, moisturizing shampoo. Your ordinary shampoo will offer you luscious locks, but the chemicals included in it will definitely be too bad, harsh on your baby's skin and if mistakenly goes to ear it could be a risk for little one.
"Baby shampoos contain milder ingredients than those found in adult shampoos, so they won't irritate a baby's eyes and skin," says Debra Jaliman, M.D., a board-certified dermatologist, assistant clinical professor of dermatology at the Icahn School of Medicine at Mount Sinai in New York City.
---
Dr. Jaliman also including that you should look for formulas that contain plant-based natural ingredients. Such as:
---
Tips For Baby Bath
Babies don't need to be washed every day, or even with soap (plain water works well in the beginning)!
For a good bath, gently scrub between all those cute baby folds, under the chin, the nappy area, and even between those little toes (because of the hairy sock).
Stick to sponge baths until the umbilical cord comes off, which could take a week or more.
Have your little one curl up in a hooded towel.
---
Buy 7 Best Baby Shampoo India 2021
---
Best shampoo For your Baby Review India
---
1. Mamaearth Gentle Cleansing Baby Shampoo
Shampooing is no easy task and involves real cleaning. Well, Mamaearth Gentle Cleansing Baby Shampoo here for you. Let your baby enjoy its thick, soft, and instant foam while gently cleanse hair and scalp. Its 100 percent toxin-free formula gives your baby soft and nourished hair. The Shampoo takes special care not to irritate those sensitive eyes and be gentle on the skin.
Asia's 1st MadeSafe certified toxin-free brand
Features: Tear-Free, Gentle Yet Efficacious, 5.6 Ph Level Best Suited For Baby Skin
Natural Cleansers – Enriched With Goodness Of Coconut Based Cleansers And Jojoba Oil To Nourish Your Little One's Scalp
Dermatologically Tested – Clinically Tested In Europe, Hypoallergenic And Safe for Sensitive Skin
---
2. Himalaya Baby Shampoo
Himalaya Gentle Baby Shampoo is a gentle "tear-free" shampoo that gently cleanses the hair making it soft, shiny, and easy to manage. It softens, nourishes, and enhances the shine of your baby's hair, leaving it soft and fresh. This gentle baby shampoo is formulated to cleanse and strengthen your little one's hair without tears. It is so gentle that your baby will definitely love it. Himalaya shampoo is essentially a natural shampoo that does not contain harsh chemicals.
It boasts anti-inflammatory and soothing properties to protect and care for your baby's tender scalp. All in all, it is an essential baby care product that helps you get rid of dirt and other harmful infectious particles from your baby's scalp, without damaging it. The delicate and soft Himalayan herbal shampoo moisturizes and nourishes your baby's hair, improving its texture. Its main ingredients include chickpeas, hibiscus, and khus khus. Protein-rich chickpea leaves hair strong and shiny, while hibiscus acts as a natural conditioner to make it soft and smooth.
Khus-khus soothes the baby's scalp with its antibacterial and antifungal properties. These natural ingredients make the Himalayan baby care shampoo perfectly safe for daily use. It cleanses, disinfects, and leaves a delicate and brilliant scent with its ideal pH balance. Easy to use, just apply this Himalaya Gentle Baby Shampoo, lather, and rinse well to instantly get those shiny locks.
No added color
Composition: Green Apple
Chemical-free
---
3. Johnson's Baby Shampoo
Johnson's No More Tears shampoo is as gentle to the eyes as pure water. Each Johnson product goes through a 5-level safety assurance process, ensuring each ingredient is safe for use. Johnson's has no harmful chemicals. Only 100% gentle care. Based on a survey conducted by IMS Health in selected metropolitan cities with pediatricians of India during August-September 2014.
Johnson's Baby shampoo is as gentle to the eyes as pure water
Equipped with a pump for easy usage
It gently cleanses hair and is mild to eyes
Only Giggles. No More Tears
Ph balanced and hypoallergenic
Recommended by doctors
No Parabens, No Formaldehyde, No Dye
Every Johnson's product passes a 5 level safety assurance process, ensuring every ingredient is safe for use.
---
4. Mee Mee Baby Shampoo
The gentle formula of this product gently cleanses your baby's skin without drying it out, leaving the skin soft and beautiful. You don't have to worry in case some bubbles get into your little one's eyes; its tear-free formula ensures that it will be enough to spray the eyes abundantly with water. The bubble bath also contains olive oil, a good source of vitamin E, which hydrates and improves skin health over time. It is clinically tested to ensure the complete safety of your baby.
Cherry Extracts
Cleanses your baby's skin without causing dryness.
Infused with Olive Oil, conditions, and protects your baby's skin as you remove the day's dirt and grime.
A hypoallergenic and dermatologically tested baby bath that is completely safe for your child.
A tear-free formula that is friendly on your baby's eyes.
---
5. Dabur Gentle Nourishing Shampoo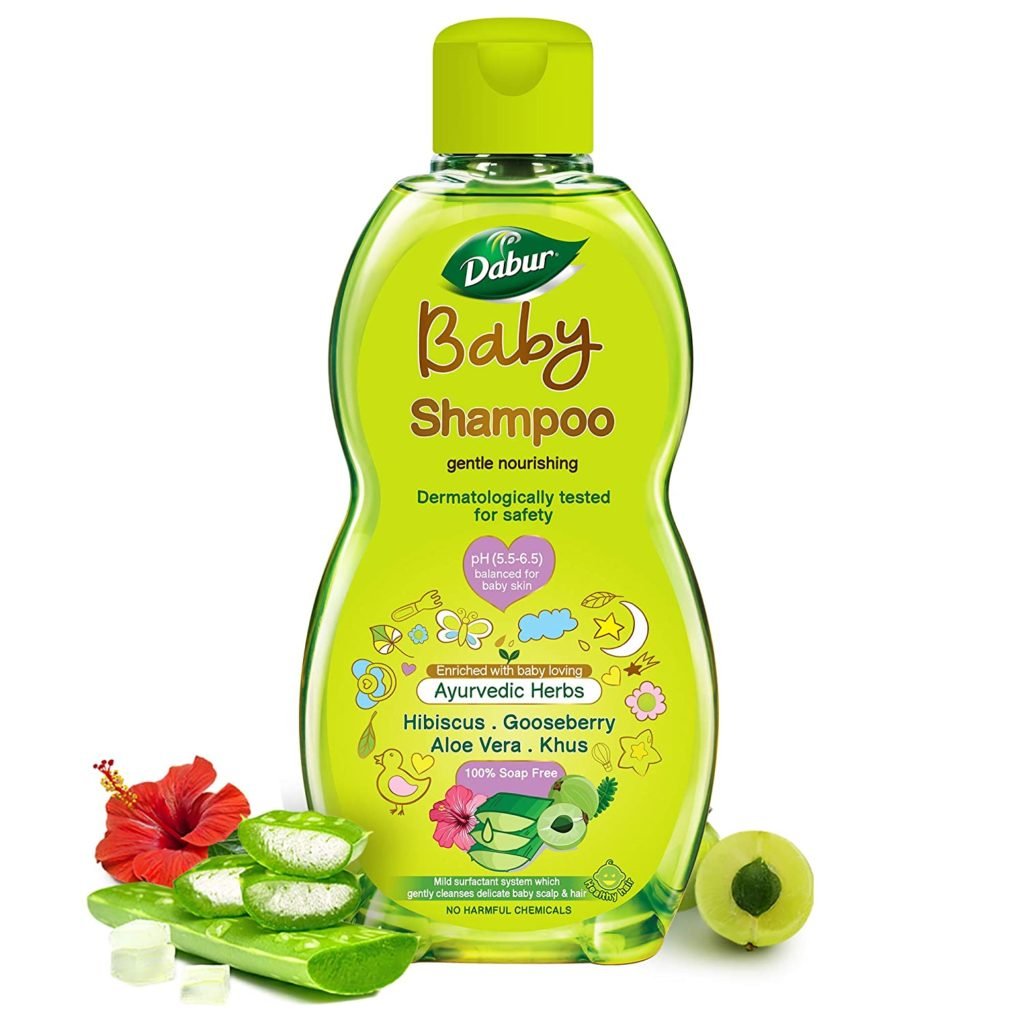 Dabur Baby Shampoo is enriched with Ayurvedic herbs that babies love and has been dermatologically tested to be gentle and safe for babies to use. The neutral pH formula of Dabur Baby Shampoos matches that of the baby's skin. It has the power of hibiscus, gooseberry, aloe vera, and khus which produces a rich creamy lather for clean, effectively hydrated, soft, and delicate hair. It is hypoallergenic, has a tear-free formula, and is gentle and safe for use on the newborn's skin. Dabur Baby Shampoo has a specially developed formulation that helps in gentle hair cleansing along with nourishment of the skin.
---
6. Cetaphil Baby Shampoo
Cetaphil Baby Gentle Wash & Shampoo provides gentle cleansing from head to toe, soothing, and moisturizing your baby's skin and hair. Glycerin and Panthenol help nourish without drying or damaging the baby's delicate skin. Cetaphil Baby Gentle Wash & Shampoo is PAMAS-free (paraben-free, animal-derived ingredients, mineral oil-free, alcohol-free, soap-free), hypoallergenic, pH-balanced, tear-free formula and is gentle enough for the baby's skin and of the baby/hair.
Tear-free formulation
Enriched with natural ingredients: Chamomile, Wheat Protein, Glycerin
safe to use even on newborn skin from Day1
Soap-free
pH balanced
Allergy tested & dermatologically tested
No harmful chemicals – PAMAS free
---
7. Pigeon Conditioning Shampoo
Pigeon Baby Shampoo Conditioner is a gentle formula for strengthening and nourishing hair. Gentle sulfate-free formula scientifically designed for baby's delicate hair. A unique combination of olive, rosehip, chamomile helps remove the cradle cap, nourishes dry hair, and keeps the baby's scalp healthy and clean. The goodness of natural plant extracts Chamomile extract: a natural soothing agent has antioxidant and antimicrobial properties.
It helps relieve the symptoms that are usually associated with any type of allergy in the baby. Rosehip Oil: A natural moisturizer nourishes dry hair and prevents dandruff. Olive Oil: A natural emollient helps keep the baby's scalp healthy and clean. An effective natural remedy for removing cradle caps in newborns.
Skin ph friendly
Hypoallergenic
With mild fragrance
Non-irritant
Suitable For Newborn
So this concludes the topic for Baby Shampoo India 2021 Natural Baby Hair Wash No More Tears, How To Choose The Best Baby Shampoo?, Tips For Baby Bath, and Best shampoo For your Baby Review.