Eureka Forbes Health Conditioner 1 Ton, 5-star inverter Split AC (White), eliminates 99% airborne germs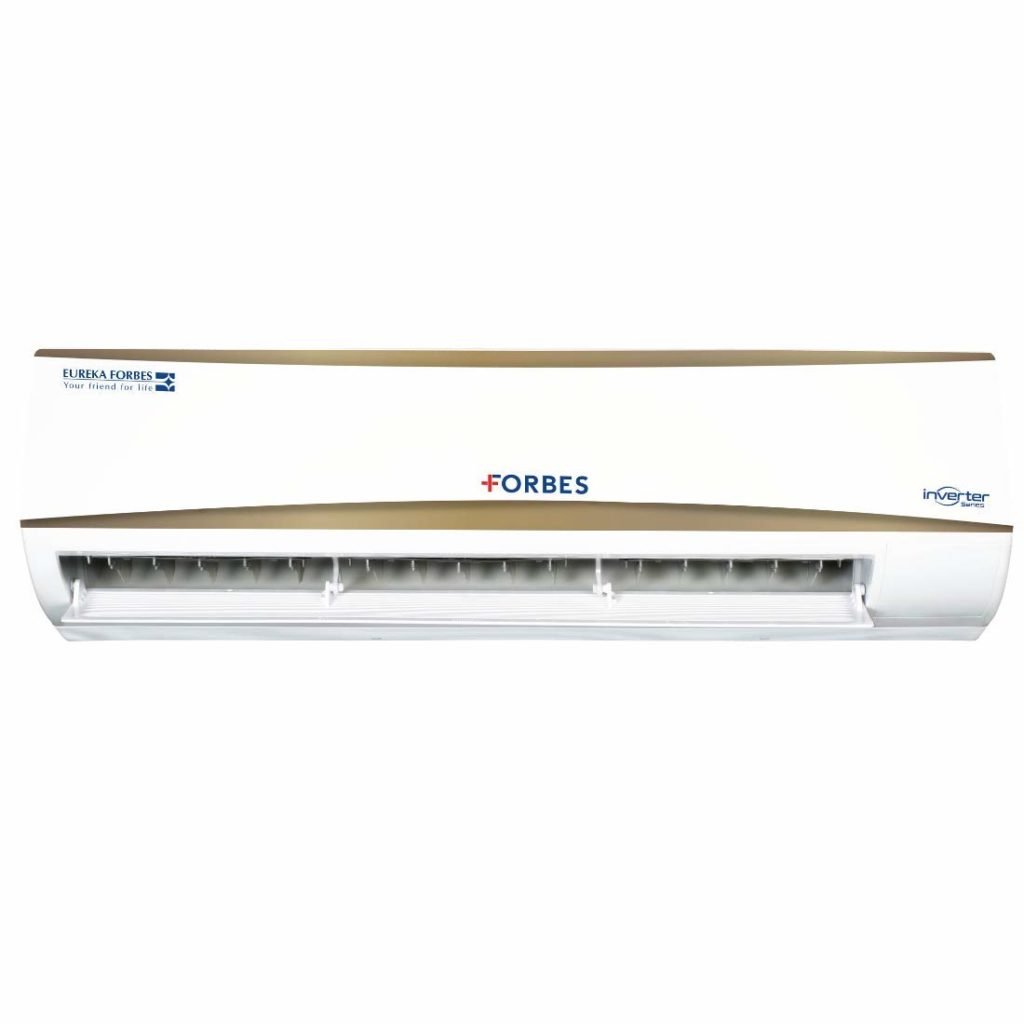 Split AC with inverter compressor: Variable speed compressor which adjusts power depending on heat load and has the lowest noise operation. It has 100% Copper Condenser Coil to ensure better cooling and requires low maintenance
1 Ton suitable for(100-120 sq ft.),Energy Rating:5 star,Annual energy consumption:597.37(kwh),ISEER-4.60. It is most energy-efficient
1 year on product, 5 years on the condenser, 10 years on compressor
Environmental friendly R32 refrigerant gas (No ozone depletion potential), Active Shield, E.Saver, Eco Mode, Self Cleaning Mode, Self Diagnosis, Hidden Display
Dimension:(80x23x29.5)cm,Weight:9.1Kg,In the box-Indoor Unit, Outdoor Unit, Remote Control, User manual, Warranty Card
Read more details ⬇
Forbes Health Conditioner with Active Shield ( Nano coated photocatalytic oxidation technology) eliminates 99% Viruses & Bacteria and keeps you cool & Healthy.
It's not just a regular Air Conditioner, it's a promise of HEALTH
This Made in India AC provides A breakthrough Technology
Forbes Ac is made in India and comes with The Active Shield(TM) Technology
The Active Shield(TM) Technology is a revolutionary air purification system that eliminates up to 99% viruses, bacterias, mold, and yeast, and deodorizes the air to create a fresher and cleaner living environment. It inhibits the growth of these new-age contaminants, while a regular AC doesn't.
Absolutely no compromise when it comes to the health of your loved ones
Other Beneficial Features
100% Copper Coil
Ensures long life and better performance.
Hydrophilic Blue Fins
The hydrophilic blue fins with anti-corrosive coating protects against salty air, rain & other corrosive elements to safeguard the evaporator.
E-Saver
The E-Saver mode adjustst the temperature at 24 degree celcius by default and operates at medium speed to save energy up to 40%.
Turbo Mode
Turbo mode gives a boost in cooling and cools the room faster.
Enter your Email and Get From US
[jetpack_subscription_form subscribe_placeholder="Enter your email address" show_subscribers_total="false" button_on_newline="true" submit_button_text="Yes! Please Send" custom_background_emailfield_color="undefined" custom_background_button_color="undefined" custom_text_button_color="undefined" custom_font_size="16″ custom_border_radius="0″ custom_border_weight="1″ custom_border_color="#4e1daa" custom_padding="15″ custom_spacing="10″ submit_button_classes="has-4-e-1-daa-border-color has-text-color has-black-color has-background has-accent-background-color" email_field_classes="has-4-e-1-daa-border-color" show_only_email_and_button="true" ]