Best WordPress Theme For SEO And Speed: A WordPress theme is what gives your website its design. It is the framework, look, and feel of the site in its entirety. Themes in WordPress are easy to install or remove in just a few clicks. You can also adjust how your site looks in just a few clicks by switching between different themes. There are thousands of free and premium WordPress themes available on the market, but finding the right WordPress theme that suits your website is difficult. Since a WordPress theme also matters for your website ranking on google's 1st page so only the best WordPress theme for SEO and speed will help you to rank on the 1st page of google search.
Why a Well-Optimized WordPress Theme Matters in Website Ranking and Speed?
As a webmaster, you will be responsible for deciding on the best WordPress theme which is both SEO friendly and optimized for speed. In this article, I will help you to understand why a well-optimized WordPress theme matters in website ranking and website speed.
WordPress is the most used content management system in the world, powering over 35% of all websites online. WordPress themes are also among the highest downloaded products on theme marketplaces. Some people say that there are too many free WordPress themes available, but these free themes are often the reasons why their users get penalized by search engines. Read also: Explain Search Engine Optimization Top 39 SEO Myths.
WordPress themes are important in SEO and website speed. A website's ranking in Google depends largely on the quality of its content and site functionality. These two factors also depend largely on the WordPress theme the content is running on.
Why Choose A Premium WordPress Theme For Website?
One of the most important aspects of getting the best out of your website is choosing the right theme, in terms of design and functionality. It's what helps provide a solid foundation for your website. Whether you are developing an eCommerce site, a membership site, or just want to have a fancy online portfolio, every theme would differ in the kind of features it offers. You would have different options to choose from. The options that are available are free or paid-for. But I already told you that Google or another search engine always penalize free theme because of badly optimization.
A professional WordPress theme can do wonders for your search engine optimization (SEO) and user experience (UX). A website's design is important for conversion rate optimization. The design affects the way the site is used, which leads to an increase or decrease in leads or sales. That's why a premium WordPress theme becomes the first and the most important thing for a WordPress website.
How To Choose The Best WordPress Theme?
Are you looking for the best WordPress Theme but don't know how to choose? Do you want to find the best WordPress website themes for SEO, usability, mobile navigation, and speed? This article will show you how to pick a wonderful theme. But before coming to the point we must have to understand few important points. Read also: WordPress Speed Optimization And Sales Page Mastery Review Is It Really Worth It?
WordPress has a few advantages over other types of website builders, but one of the most important ones is that you can modify any theme. This is why it's so important to choose your WordPress theme wisely. There are a lot out there and some can be great, while others can definitely be not worth the money. You want to become an online entrepreneur looking for the best WordPress theme that would easily be integrated into your site. You asked yourself, "How can I select the best WordPress theme?"
Maybe, you are even tired of selecting the best WordPress theme for your needs. Well, you are in luck! Here is my list of steps on how to choose the best WordPress theme for any type of website.
Ratings and Reviews
SEO Friendly
Page Builders
Tanslation and Multilingual Ready
Supports Plugins
Browser Compatible
Responsive
Strive for Simplicity
Support From Theme Developers When You Need Help.
List of Top Best Premium WordPress Themes for SEO and Speed
Blog:
Ira – Blog News WordPress Theme
Ira is a Premium stellar News WordPress theme that will bowl you over with its beauty. it is a minimal WordPress theme with an understated style, sophistication, and polished layouts. But behind its minimal and squeaky-clean design hides the ability of premium features, accurate coding, and best SEO strategies for your blog and website.
Key Features: Clean and well-optimized, different layout options, WPML support for multilingual website, WooCommerce, Revolution Slider, Blog, Contact Page, WPBakery Page Builder, Kirki customizer, Google Fonts, Font Awesome Icons, Multi Tabs, SEO-friendly, Responsive.
Ideal for every kind of stories websites, online magazines, editorials, all bloggers, including travel bloggers, lifestyle bloggers, technology bloggers, personal blogs, creative writers and poets, review sites.
Cleaning:
Kleanz – Cleaning Service WordPress Theme
Kleanz is a premium efficient WordPress Theme for cleaning services with squeaky-clean code and advanced features. This premium theme gives you the best and fastest build an outstanding website. Use it to create a robust website for selling cleaning services or products. This theme has all you wish for a successful business website or e-commerce store.
Key Features: Clean Web Design, Elementor Website Builder, Gutenberg Compatibility, Layer Slider, Revolution Slider, WooCommerce Compatibility, Pricing Packages, Online Appointment Booking, Team Section, Portfolio, Testimonial, Services Section, FAQ, Brand Logos, Google Fonts, Font Awesome Icons.
Ideal for Cleaning Services, Cleaning Companies, Cleaning Product Stores, Home Repair Services, Home Maintenance Services, Hire A Maid Services.
Construction WordPress Theme
Construx – WordPress Construction Theme
Construx is a premium construction WordPress theme. The theme is designed for power, stability, and efficiency. It has all your wish to make an expert website that has low maintenance, yet is feature-packed. it's also SEO-friendly, responsive, and built for speed.
Key Features: Construction website theme, WooCommerce, Pricing Table, Store Locator with Google Maps, Revolution Slider, Construction Blog Design, Responsive Galleries, Kirki Customizer, Google Fonts, Font Awesome Icons, Multi Tabs.
Ideal for: Building Promoters, Construction Company, Construction Business, Contractors, Builders, and Infrastructure websites.
Food WordPress Themes
Snacky – Restaurant and Tea Shop WordPress Theme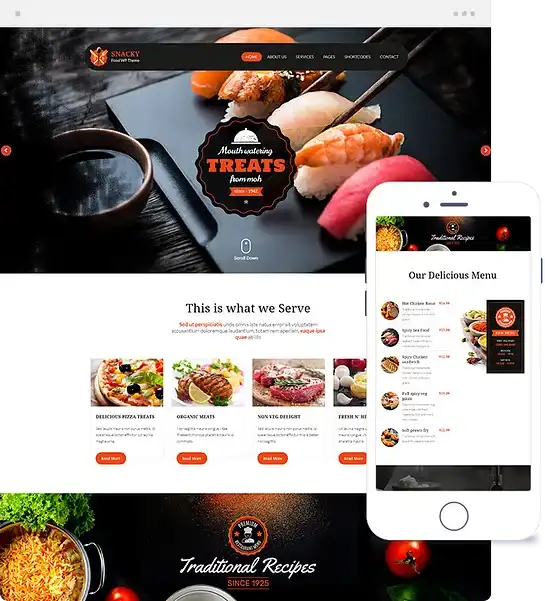 Snacky is a Cafe WordPress Theme. It has all you need to build a successful restaurant website. With custom-designed features, classy design, and top-notch performance, this premium Cafe WordPress Theme for restaurants gives you the best recipe for online success.
Key Features: Menu with Price, Food Blog Templates, Custom Widgets. Services section, Google Maps integration, WPML compatibility, Kirki customizer, WooCommerce, Customer Reviews, Sliders, Gallery, Google Fonts, Icons, Multi Tabs, Shortcodes, Supports online booking.
Ideal for: Cafés, Cafeterias, Tea Shops, Bakeries, Restaurants, Bistro, Fast-Food Restaurants, Pizza Corners, or any food-related business.
Free WordPress Theme For SEO And Speed
Free WordPress themes and free responsive wordpress themes (click here to see our recommended collection of free wordpress themes for both seo and speed) – If you're looking for a theme that can help your WordPress site rank faster, then you're in luck! These wordpress themes serve the purpose.
Final Verdicts
A blog is a really good way to show your expertise and prove the quality of your writing. The success of a blog will be highly dependent on its interesting content, great topics to write about and an impressive design. Therefore, you should do everything to create the best blog possible.
Once you've given your new website a great deal of thought and come up with a site idea, you need to design it before getting on with the more serious matter of developing content. The next step will be to find the right WordPress theme for SEO and speed, and we discussed some of the most important considerations. With the best WordPress theme, you'll be able to improve your site's social media capabilities and more.