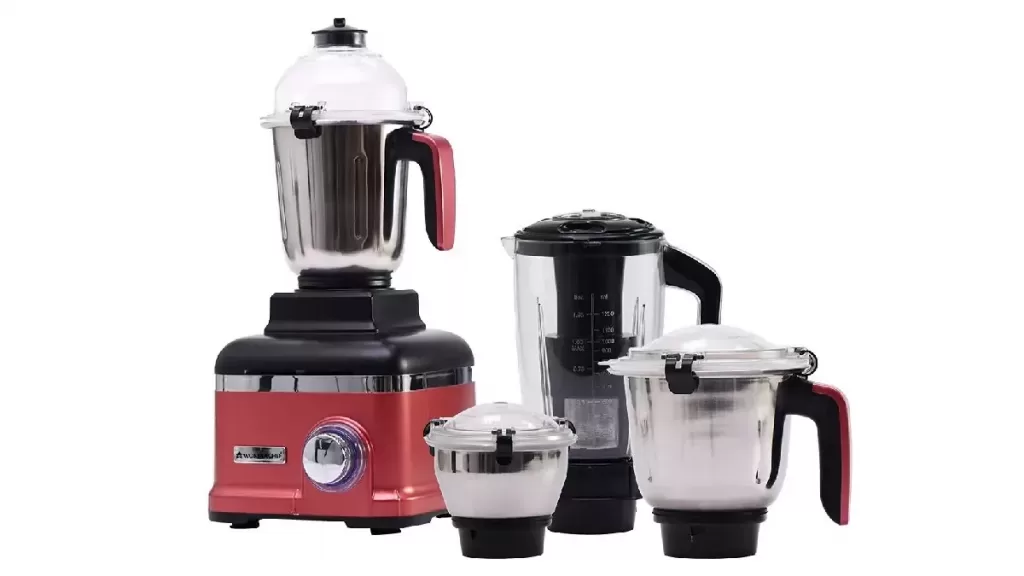 Best Mixer Grinder 1000 Watt India
Best Mixer Grinder 1000 Watt: Nowadays people have become more conscious about their health, so they have started making everything at home. In such a situation, if you want to make healthy milkshakes, smoothies, or fresh juices at home, then we are telling you some special and best mixer-grinder options in this report. In these mixer-grinders, you will also find a powerful 1000 watt motor and many multipurpose jars, which you can use according to your needs. Along with this, these products also give you the freedom to grind fresh chutneys and spices at home, so that your food remains healthy and you can enjoy delicious food. Talking about their price, they start from Rs 4500, let us tell you about these mixer-grinders.
WonderChef Mixer-Grinder
WonderChef has become a big name in kitchen appliances in a very short span of time, so the regular model which comes with 1000W capacity can be your choice. In this (Best Mixer Grinder 1000 Watt), you get anti-rust stainless steel blades and ABS high-quality plastic has been used to make it, which makes it strong. Apart from this, you will get a heavy-duty copper motor which makes this model durable.
With this, you get 4 stainless steel jars in which you can make a puree, pasta, chutney, milkshake, and much more in just minutes. Apart from this, you will also get the feature of overload protection and an advanced air ventilation system for your safety. Along with this, its ergonomic handle makes it comfortable to hold and it does not move from its place while on the move. You will get it in dual-color i.e. Black and Red color. Its online price is Rs 4,799 and the company also gives you a 5-year warranty on the product.
Inalsa mixer grinder
Inalsa company's mixer-grinder model (Aarin 4 Jar) can also become your choice (Best Mixer Grinder 1000 Watt). You get this company's Mixer-Grinder with 1000 Watt capacity which is powered by a powerful 100% pure copper motor and you will also get a decorative chrome finish on its front. You will get it made of high-quality ABS and along with it 2 blades of stainless steel will be found separately.
Talking about its design, you get this mixer-grinder in compact and sleek size, which is also beautiful to look at. In addition, this mixer grinder comes with 4 durable and extremely sturdy jars that include 1.5 L break resistant blender jar with fruit filter for juice extraction, 1.5 L stainless steel liquidizer large capacity jar, 1.0 L for grinding spices, and other ingredients Stainless Steel Dry Jar and 0.4 L Stainless Steel Chutney Jar in which you can prepare the chutney of your choice. Along with this, you also get 3-speed controllers with plus function, which you can use according to you. You can buy this product in black color. Its online price is Rs 4,461 and the company is also offering you a 2-year warranty.
Bosch Mixer-Grinder
If you want to get a good quality mixer-grinder, then you can look for the Bosch brand model (True Mixx). You will get it with 1000 watt power and also you get it with a 3-speed control setting. This mixer-grinder is exquisitely designed with a blunt pounding blade whose coarse edge allows you to powder dry ingredients in minutes. This model is (Best Mixer Grinder 1000 Watt) completely hands-free with a lid lock and sturdy suction feet.
The high-quality stainless steel blades are excellent for handling all types of grinding wet, dry. With this, you get high-grade 4 stainless steel jars and overload safety features for your safe operation. Get. You will get this mixer-grinder in a compact and sleek design, which will not take up much space in your kitchen and will also look good when kept. It is quite light-in-weight and you can buy this model in red and black colors. Its online price is Rs 6,399 and the company is also giving you 2 years warranty on this product.