WordPress Tutorial – How to Write SEO Optimized Blog Posts on WordPress
Everybody wants to rank higher their blog posts in search engines. To gain this achievement you should be optimizing your website. If you are using WordPress then it makes it easier. If you don't know how to make a WordPress website SEO-friendly please read the previous tutorial. In this tutorial, I'll show you the steps on how to write SEO Optimized Blog posts.
Now the question is what does mean a search engine optimized (SEO) blog post? An SEO optimized blog post means the potential to achieve a higher rank and get for more traffic to your website or blog. An SEO-friendly website or a post can help you to make more money with your blog.
10 Tips to Write an SEO-Friendly Article
Follow these SEO steps and increase your chances of being ranked higher in search engines.
Follow & Write SEO Optimized Blog
Step 1. Make Your WordPress Website SEO Friendly
As earlier I mentioned first you should optimize your WordPress website.
Step 2. Install an SEO Plugin

to Write SEO Optimized Blog

As I told you WordPress makes this task easier because it has every kind of plugin available. If you don't know how to install a plugin on WordPress read my previous article.

Some of the premium WordPress themes also prove SEO optimization features in their theme. But I'll recommend you always use an SEO plugin. If you are a beginner and you are using free WordPress then must use it. I'll recommend your Yoast SEO Plugin. Because this is a very popular and well-rated plugin. I also use this plugin not only for my blog posts but my entire website is search engine optimized.

The Yoast Plugin is very user-friendly and easy to use. Download this plugin and use it.
Step 3. Research your Keywords
Here you need to focus before you begin writing a blog post, you need to do some research on your keywords. It'll help you to create a better title for your blog post.
I mostly use Google Keyword Planner to do my keyword research. You can also use this tool. You will just need to create an AdWords account to use the keyword planner. For using this tool you don't have to pay any amount, this tool is free.
After creating an AdWords account go to Tools on the upper right corner and click on Tools > Keyword Planner.

For your kind information, Google is rebranding Doubleclick and AdWords read here.
How to research keywords?
To research your keyword, log in to your Google AdWords account select Keyword Planner and type your keywords into the box that says "Find new keywords." After entering your keyword click on "Get Started."
Now it'll display a list of results that include your keywords as well as suggested keywords that are related to your searched keyword. It'll look like this:
In the result area, it'll show you following
Average monthly searches
Competition – Competition refers to the people who pay for their ad to show up when this word or phrase is searched. If you don't pay then don't focus on this Competition section.
Volume and CPC
How to Write SEO Optimized Blog Posts?
Step 4. Create Your Phrase

to Write SEO Optimized Blog

Using the information provided by the AdWord result, you can decide to keep your phrase, or you can even choose to go for one of the suggested keywords.

Note: You don't want to use a keyword that has very low average monthly searches. Because If you'll go for those you won't get much traffic. You also don't want to go for a keyword that has a very high average monthly searches because it may reduce the possibility of a higher ranking).

You always try to use long-tail keywords that consist of 3-4 keywords. Long-tail keywords are searched for less, so it doesn't create more competition.

Long-tail keywords mean less competition means there is a chance of being found in search engines.

For example, If you use the long-tail keyword phrase "install WordPress using cPanel" as opposed to using a keyword phrase like "install WordPress."

With a phrase like "install WordPress," there are so many other websites that have already ranked for that keyword phrase, you would most likely never be found in search engines using that phrase. So always try to use a long-tail keyword.
Step 5. No Copy Paste

to Write SEO Optimized Blog

You should always avoid copy paste work for your blog post. Please don't copy other website content for your post. If you are really looking for a topic then just read some articles related to your topic and write in your language. This is most important because the Google search engine is very smart. It finds this kind of post and kicks it.
Step 6. Always use Keywords in your Blog Post
Always try to include keywords in your title. Sometimes it doesn't suit the title and it doesn't sound natural. So to avoid this problem always create a catchy title. And use it in the SEO title section of the Yoast SEO plugin. As shown in the image below.
This way, you can provide readers a "catchy" title, and search engines will see an SEO optimized keyword title.
The meta description shows a short preview of your blog post. So you should always use keywords in the meta description. And always try to keep the meta description around 150 characters. If you use the Yoast SEO plugin, it will guide you every time when you'll write a post. It shows Red and Green bars. A green bar means everything is good, Red bar means you need to do improvements in your post. Yoast also shows what you need to improve for Good SEO.
See below an example of a meta description using the Yoast SEO plugin: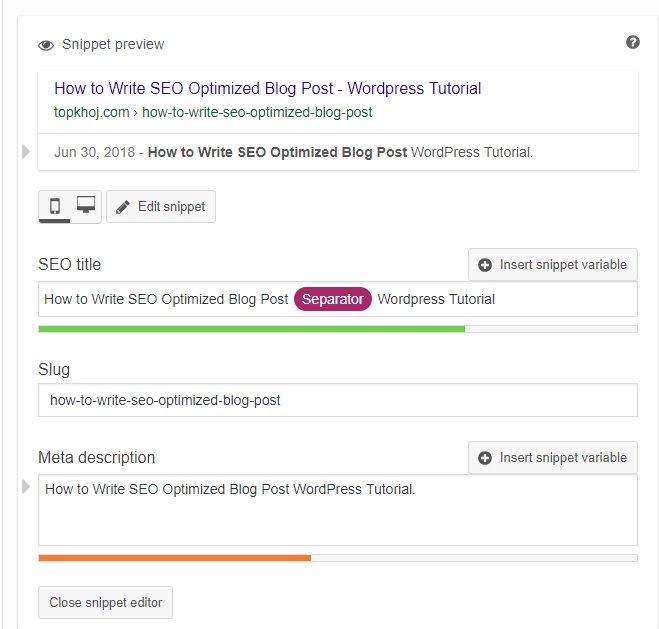 You should always try to include your keyword in the first paragraph of the blog post. If the first paragraph is long then try to include it in the first 200 characters. Make a good sentence using your keywords.
Step 7. Use Heading 2 (H2) Tag
The H2 Tag is the most important tag for your blog post. Search engine always keeps their eyes on H2 Tag. Because headings tell search engines what your content is about.
WordPress provides six headings H1 to H6.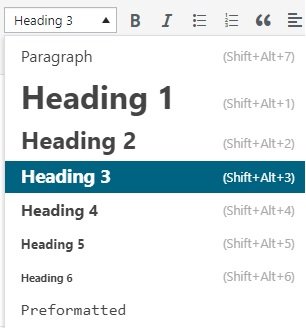 Why Should you use H2 Tag?
Because the H1 tag is for post titles only and you can't use it within your blog post. If you use then you're doing wrong.
Once search engine crawlers find the H1 tag, goes for all of the H2 tags.
Next, they go for the H3 tags, and so on. As I said, I usually only use H2 tags in my posts.
If possible, always include keywords in an H2 tag.
Step 8. Images with A Title and Alt Text
If you write a post or a long post you should always use images. When you upload an image to your post make sure you are given a name for your image.
Please do not upload an image titled xyz_0123456. This kind of naming is not good for SEO. Gives your image a proper name related to your blog post and always provides Alt Text. The Alt Text must include your keywords. If you've multiple images for your blog post, you can only provide Alt Text and Title only to your post feature image. But the rest images must contain A title.
If you'll not prove this info in your images search engines can't identify what your image is. You have to tell them.
Step 9: Interlink your Blog Posts
Interlinking provides juice for your SEO. And you how Juice is healthy for our health. As similar, this interlinking is also provided healthy juice for you good SEO. Interlinking is also an excellent way to get recalling your older posts.
Now the question is how to interlink.
Interlinking is a very simple task. When you write a blog post, open a new tab in your browser. Now open your website search-relevant posts in your website copy the posts' links (URL) and paste them into your current post.
For example, here I'm interlinking my older WordPress tutorials category, "For more WordPress tutorials be sure to check out my older posts."
By doing this I link to related content within the post.
Step 10. Good Permalink
What is Permalink?
A permalink is a permanent link for your blog post or page. That is also known as a URL.
Lets I assume you've completed your writing section, you wrote all the important pieces of information. Now have to publish your blog post. But before you publish your post, make sure your permalink is good and is well optimized.
Always try to keep your post permalink short, because long permalink is not good for SEO. You should also make sure that your post permalink is free of stop words (such as "the," or "is") and also included your keywords.

Now save your Post as a draft and Preview your post. After reviewing your post click on Publish.
READ MORE: How to Get a Reliable Web and WordPress Hosting with a Free Domain Name
So readers, Today I taught you How to Write SEO Optimized Blog Posts? If this tutorial is helpful for you please share it everywhere.